Green Web Hosting – Efficient, Affordable Webservices That Also Help The Planet
It is a widely accepted fact that if you want to get ahead in todays world you need to be clean, courteous and connected! As a business you need to be at the cutting edge, easily contacted and fully up-to-speed with the latest technology, innovations and ways that your customer base wants to do business. As an individual who wants to stay current and aware of his or her personal world, you also want to remain as 'state of the art' as you can.It is therefore a unwise man that shuns the internet and the million of avenues that it opens up to you.
It is also widely accepted that our planet is being stretched to the limit. Resources are being consumed faster than they can be replaced, polutants are reeking irrepairable damage on the land, water and air and our passion for progression is in real danger of leaving a lasting legacy of destruction and bad management for countless future generations.
There are a number of highly reputable companies that can offer internet facilities such as web-hosting, web-site building templates, tools and advice, ecommerce facilities and other similar functions, but very few that have really sought to address the lasting environmental concerns associated with twenty first century mankind.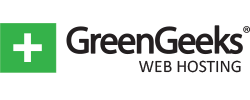 GreenGeeks have bucked that trend and offer highly professional Green Web Hosting services with perhaps just a little less of the starch and propriety often seen and associated with the field. All the the usual web-based services and continuing support are provided and the price is highly competitive, but it is the companies green credentials that really make GreenGeeks something special.
Boasting an Energy Efficient Infrastructure, 300% Wind Powered Green Hosting and Carbon Neutrality, GreenGeeks Green Web Hosting approach in providing  the technology we demand, at the price the planet can afford is a real breath of fresh air and should be championed wherever possible.