Monthly Archives: January 2017
Early Bird Ticket Sales for NoCo Hemp Expo 2017 End January 27
Join the largest gathering of its kind in North America, where everyone has a role in Setting the Stage for Hemp Tomorrow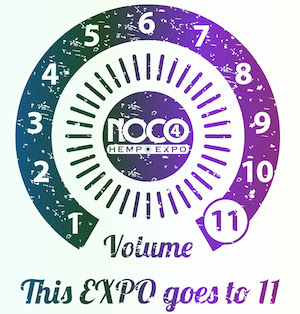 Loveland, CO (Jan. 12, 2017) — Early bird tickets for NoCo Hemp Expo 2017 are on sale through January 27th. Industry experts from around the globe will be in attendance, and thousands of burgeoning entrepreneurs, investors, innovators, farmers, and consumers alike, will descend upon the Loveland location to join the hemp revolution currently underway in the USA.
The NoCo Hemp Expo Hall will be filled with exhibitors and sponsors showcasing a wide array of products, services, technology, and equipment that is set to open up a multi-billion dollar domestic industry in the next three to five years. Products include textiles and apparel, building materials, super foods, bodycare, personal wellness and health supplements, bio-plastics and composites, paper and specialty board products, nano-tech fiber technologies, extraction and processing equipment, and much more. This is where you will learn everything you need to learn about the non-psychoactive side of the cannabis plant. This is where you will learn that hemp is not marijuana.
Section 7606 of the 2014 Farm Bill, passed by Congress and signed into law by President Obama, differentiates industrial hemp from marijuana at the federal level, and legalizes the growth and production in states that have passed legislation and setup the regulatory framework through the department of agriculture. It defines industrial hemp as follows:
"The term 'industrial hemp' means the plant Cannabis sativa L. and ANY PART OF SUCH PLANT, whether growing or not, with a delta-9 tetrahydrocannabinol concentration of not more than 0.3 percent on a dry weight basis."
The 2014 Farm Bill language reaffirms and expands the 2004 Ninth Circuit Court's ruling on imported industrial hemp in HIA vs. DEA that protects naturally occurring cannabinoids, including delta-9 tetrahydrocannabinol concentration not more than 0.3 percent on a dry weight basis.
In the coming weeks, Congressman Jared Polis of Colorado and Congressman James Comer of Kentucky will reintroduce the Industrial Hemp Farming Act which would completely remove Industrial Hemp from the Controlled Substances Act.  "The federal ban on hemp has been a waste of taxpayer dollars that ignores science, suppresses innovation, and subverts the will of states that have chosen to incorporate this versatile crop into their economies," said Representative Polis.
The NoCo Hemp Expo enters its fourth year at The Ranch Events Complex on March 31 and April 1, 2017, in Loveland, Colorado. The expo has grown from just over 300 attendees in 2014 to more than 3,000 in 2016. Attendance is expected to exceed 4,000 in 2017. These numbers reflect growth nationally in market interest and production of industrial hemp. Roughly 200 acres planted in various states in 2014 grew to more than 10,000 acres planted in 2016, with an additional 2 million+ square feet of indoor greenhouse space growing high cannabinoid, non-psychoactive hemp targeted for the health and wellness sectors of industry. More than 30 states have passed hemp legislation that effectively nullifies the outdated and incorrect inclusion of industrial hemp within the Controlled Substances Act.
Colorado Hemp Company president and NoCo Hemp Expo Founder Morris Beegle recently stated, "Industrial hemp, along with all of the nutritional, nutraceutical, health and wellness benefits, are one side of the beneficiary coin for those living in the United States. The other side includes the tremendous economical and environmental benefits of allowing farmers nationwide to grow hemp without impediment from the overreaching arm of the federal government. Industrial hemp is a crop that should be managed by the Department of Agriculture, just like corn, soy, and potatoes, and should not have interference from the DEA or FDA. Industrial hemp is an ag crop…period."
About NoCo Hemp Expo 4, Colorado Hemp Company and TreeFreeHemp
WAFBA LLC (We Are For Better Alternatives) is home to the NoCo Hemp Expo, TreeFreeHemp and Colorado Hemp Company, located in Loveland, Colorado and operating since 2012. Areas of focus include product and brand development, marketing, printing, production, events and advocacy.
Learn more at NocoHempExpo.com, and find us on Facebook and Twitter.