Update: if you are searching for a coupon offer on Beard Papa Cream Puffs, then check out this deal from Groupon. Probably the best deal you can find right now.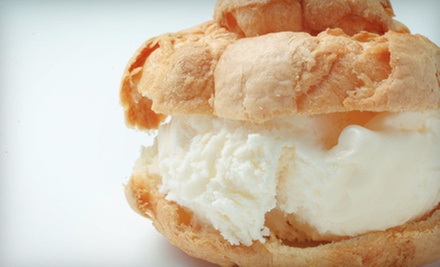 Ice cream can be served any number of ways–in a cone, as a sandwich, or just scooped right into your mouth by some guy in a truck. Have it your way with this Groupon.
Time left to buy 2 days Over 1,000 bought
$8 for $16 Worth of Ice-Cream Puffs, Cream Puffs, and Mochi
Choose between the following redemption locations:
Pasadena
Downtown Los Angeles
Customers can savor crunchy ice-cream puffs ($2.95+) filled with scoops of chocolate, matcha green tea, cookies and cream, or strawberry cheesecake. The menu also includes éclairs ($2.25), cheesecake sticks ($1.50), mochi ice cream ($1.15), cream puffs filled with all-natural custard ($1.95), and bubble-tea drinks ($2.25–$2.75).
Dear Beard Papa Fans,
Beard Papa is introducing the all new Mini Croissant (Petit-Cro). We are giving it out free of charge with any purchase (Please see coupons).
We are also offering multiple coupons for you to save some money in the tax season. Please feel free to distribute the coupons to your family, friends and love ones. You can use the coupons in a lot of our locations.
Known as the bakery of the "World's Best Cream Puffs," Beard Papa's has been a household name since 1999 when we opened the first Beard Papa's store in Osaka, Japan pumping out this unique cream puff to happy people. Since that time, our mission has remained unchanged, to pursue uncompromising quality in serving the World's Best Cream Puffs. By remaining focused in our quality commitment and attention to customer service, Beard Papa's has courted a devout following of puff lovers who will attest that once you taste our cream puffs, there is no comparison.
Here is our Beard Papa Pasadena Address:
415 S. Lake Ave. # 103, Pasadena, CA
Tel: 626-578-0048
(Del Mar & Lake outside Macy)
Best Regards
Beard Papa Pasadena
Use this coupon: