Kevin Lynch – Apple Watch Demo
Apple investors appear to like the news of the Apple Watch announcement.
Glances –
Control your Apple TV
Viewfinder for iPhone
Walkie Talkie
Control music on Apple Watch or other devices nearby, playing some Coldplay from the Apple Watch, tracks.
Information coming to you. TapTic Engine
So the Apple Watch is not going to be named iWatch.
Third party developers with Apps.
Apple pay will work with Apple Watch.
Facebook friend request.
WatchKit, rich experiences
Actionable Notifications
Twitter,
Appls for home screen
Timeline , trending
Traveling, American  Airlines, checking in to collecting bags
Check  into hotel, unlock hotel room door by waving Apple Watch
W Hotels in the Spring of 2015
city Mapper
pinterest
Walking directions
BMW charge level, map to car, and back
MLB
Honeywell
Lutron
Nike, challenge
some of the great apps
Waiting for developers.
Ordering link
Apple watch will cost. $349 starting price
Will be available early 2015.
Available starting: Early 2015
Apple Watch requires iPhone
Works with iPhone 6, 6Plus 5s, 5c, 5.
200 million people can use Apple Watch
Simple to charge, inductive charging.
Jay Blahnik
Apple Watch health and fitness application
Gives ability to motivate people, a bit more active, or track what you are doing, serious athlete,
Fitness App
Workout App – set goals
Incredible team in health in fitness at Apple, how it comes together.
Jay Blahnik works for Apple
Stand break, sitting less can go a long way towards better health
dedicated workout app.
Apple Watch
Apple Watch Sport
– light and durable
Apple Watch Edition
18k gold, twice as hard as standard gold
Maps on Apple Watch
Apple Digital Touch
send a message or interact, tap each other
TapTic Engine
Apple S1 Chip
4 Saphire lenses, pulse rate, gps and wifi, comprehensive picture of daily activities
+- 50 milliseconds
Wireless charging!
– range of watch faces
– you can personalize
6 different straps, interchangeable.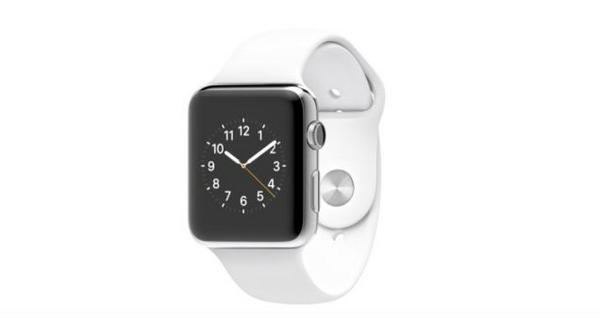 sports bands, bold colors, sweat and chemical resistance
leather look