Airplane Crashes on fire at SFO airport Video
Update: You can listen to the air traffic control FAA audio here. Very professional calm and controlled.
There are 2 people reported killed. Both Chinese citizens. Apparently both killed on the impact of the tail of the plan at the sea wall.
Update on Flight 214 : 777 – 290 passengers, 12 crew members
The Coast Guard is on scene apparently reports that there is a body in the water.  There is no count on the number of people on board at this time, but the capacity of a Boeing 777-200 is several hundred.
Boeing 777 operated by Asiana Airlines crashes while landing. Arriving from Seoul, South Korea. Flight 214. The plane was delivered in 2006 for production commercial flights. The NTSB Go Team is on the way to the scene of the crash.
Witnesses report hearing a pop and that the tail came apart and the left wing broke off as the plane made a cart wheel to the left. Airport crews had no idea that the plane was coming in on a crash landing. There was no crews with lights on the ground waiting for the plane.
The plane making an approach appeared to be coming in as a normal landing until the front landing gear did not touch down. Anthony Castorani witnessed the crash.
The debris field starts at the runway beginning with parts of the tail and front landing gear in pieces. Indicating that the plan came down early on the ground. Perhaps the tail hit the ground/rocks at least several hundred feet before the runway start.
It would appear that from looking at the crash site,  but looking at the crash site soon after it happened shows most of the plane intact.
Does not appear that the weather played a role in the accident. It does appear that the pilot may have made an error in judgement on the runway. The nose of the plan was very high on landing and the tail hit the ground. The plane lost control with many parts of the plane coming apart.
As of 12:15pm there are no planes landing or departing.
Boeing 777 Crashes in San Francisco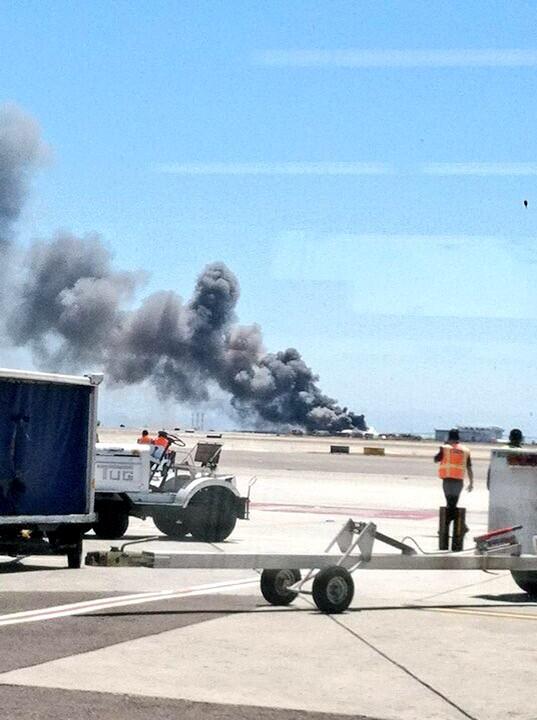 It is reported that the plane made an emergency landing.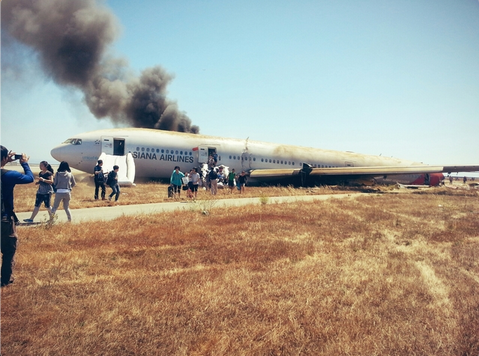 Photo credit David Eun- Samsung Executive, who was on the plan @Eunner