Monthly Archives: January 2016
Caltech & Innovate Pasadena Present "Innovation in Aerospace"
This Friday's "Innovation in Aerospace" event co-presented by Caltech and Innovate Pasadena is sold out!
Caltech has graciously set-up a live webcast of the event so that you can still hear from top innovation executives from the world's leading aerospace companies.  The webcast will go live at 1:30pm on Friday, January 22nd and can be accessed here.
We are maintaining a waitlist for this week's event so feel free to register and we will let you know if a seat becomes available.
We are looking forward to seeing you on Friday for the "Innovation in Aerospace" panel.
Remember, if you're not able to join us this go round there will be more events like this in 2016 under the "Idea 2 Innovation" series co-presented by Caltech and Innovate Pasadena.  Caltech is a world-renowned research and education institution that has generously provided its resources and connections to bring the i2i series to the Pasadena innovation community.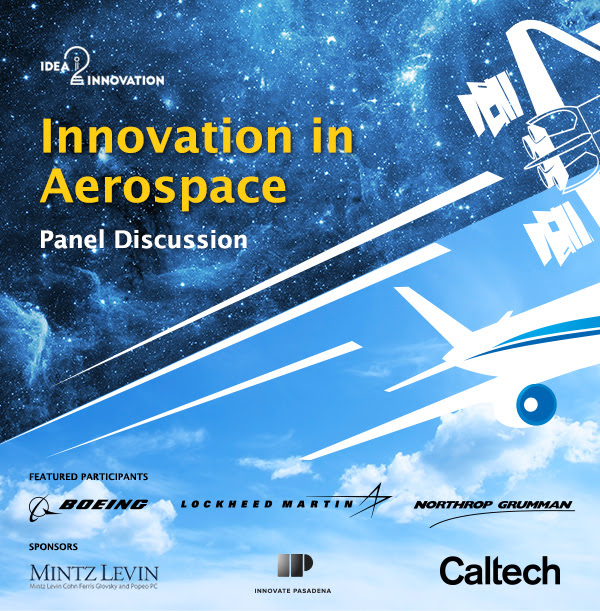 INNOVATION IN AEROSPACE
A Panel Discussion Featuring Global Leaders In Aerospace
Friday, January 22nd 2016, 1:30-3:00pm
Caltech – Hameetman Auditorium
Cahill Center for Astronomy and Astrophysics
PANELISTS
John Tracy
Chief Technology Officer, The Boeing Company
Scott Fouse
VP, Advanced Technology Center, Lockheed Martin Corporation
Erik Antonsson
Corporate Director of Technology, Northrop Grumman Corporation
Vandad Espahbodi
Co-Founder of Starburst Accelerator
Opening Remarks: Mory Gharib, Hans W. Liepmann Professor of Aeronautics and Bioinspired Engineering; Director, Graduate Aerospace Laboratories; Vice Provost
Moderator: Andrea Belz, Director of Innovation Node – Los Angeles, EIR and Academic Director USC Marshall
Closing Remarks: Guruswami Ravichandran, John E. Goode, Jr., Professor of Aerospace and Mechanical Engineering; Otis Booth Leadership Chair, Division of Engineering and Applied Science
Networking session and refreshments to follow on patio of the Cahill Center.
---
The Idea 2 Innovation (i2i) event series, co-presented by Innovate Pasadena and Caltech, provides ongoing opportunities to bring together the Pasadena innovation community with industry leaders to exchange ideas in an inspiring and welcoming environment which fosters entrepreneurship.
Sponsored by Caltech Office of Technology Transfer and Corporate Partnerships, Caltech Entrepreneurship Club, Innovate Pasadena, and Mintz Levin PC.
---
FAQs
What are my parking options?
The nearest parking availability is in Structure #3. You must purchase  a visitor parking pass which can be obtained at the auto-kiosk. For more parking information, click HERE.
Who can I contact for more information about this event?
Feel free to email celina@innovatepasadena.org at Innovate Pasadena or palas@catech.edu at Caltech.
Where can I get more information about this event?
Please visit the event page on the Division of Engineering & Applied Science website.