Fitbit's Newest Product is Here: Flex,the Wireless Activity Wristband!
Flex™ Wireless
Activity + Sleep Wristband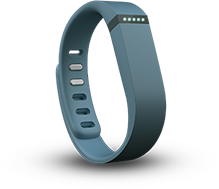 Tracks steps, distance, calories burned and active minutes.
LED lights show progress against your goal.
Monitors your sleep and wakes you with a silent alarm.
Wear all day and night, even in the shower.
Includes tracker, small and large wristbands (sizing guide), charging cable and wireless sync dongle.
Free shipping with orders over $50 at Fitbit.com!
FTC - Site employs income earning affiliate
linking