The Vegan Beer & Food Festival.  5/27 @ Rose Bowl. Unlimited pours of 250+ drinks, over 75 restaurants, marketplace & more. on sale now!
Unlimited pours OF THE REGION'S best CRAFT BEER, WINE, CIDERS, KOMBUCHA, COLD BREW, CRAFT SODAs and, new this year, tea Tastings at The Rose Bowl & Brookside Golf Course on May 27.
WE CURATE 100+ restaurants, food carts, TRUCKS and VENDORs.
The Green Saturday Vegan Marketplace SHOWCASES VENDORS SELLING EVERYTHING FROM CLOTHING TO skin care.
<href="https://twitter.com/GreenSaturdayLA" data-mentioned-user-id="4040950394″>@GreenSaturdayLA marketplace lineup is here!! 40+ boutiques, body care & food for you to shop on 5/27. https://eatdrinkvegan.com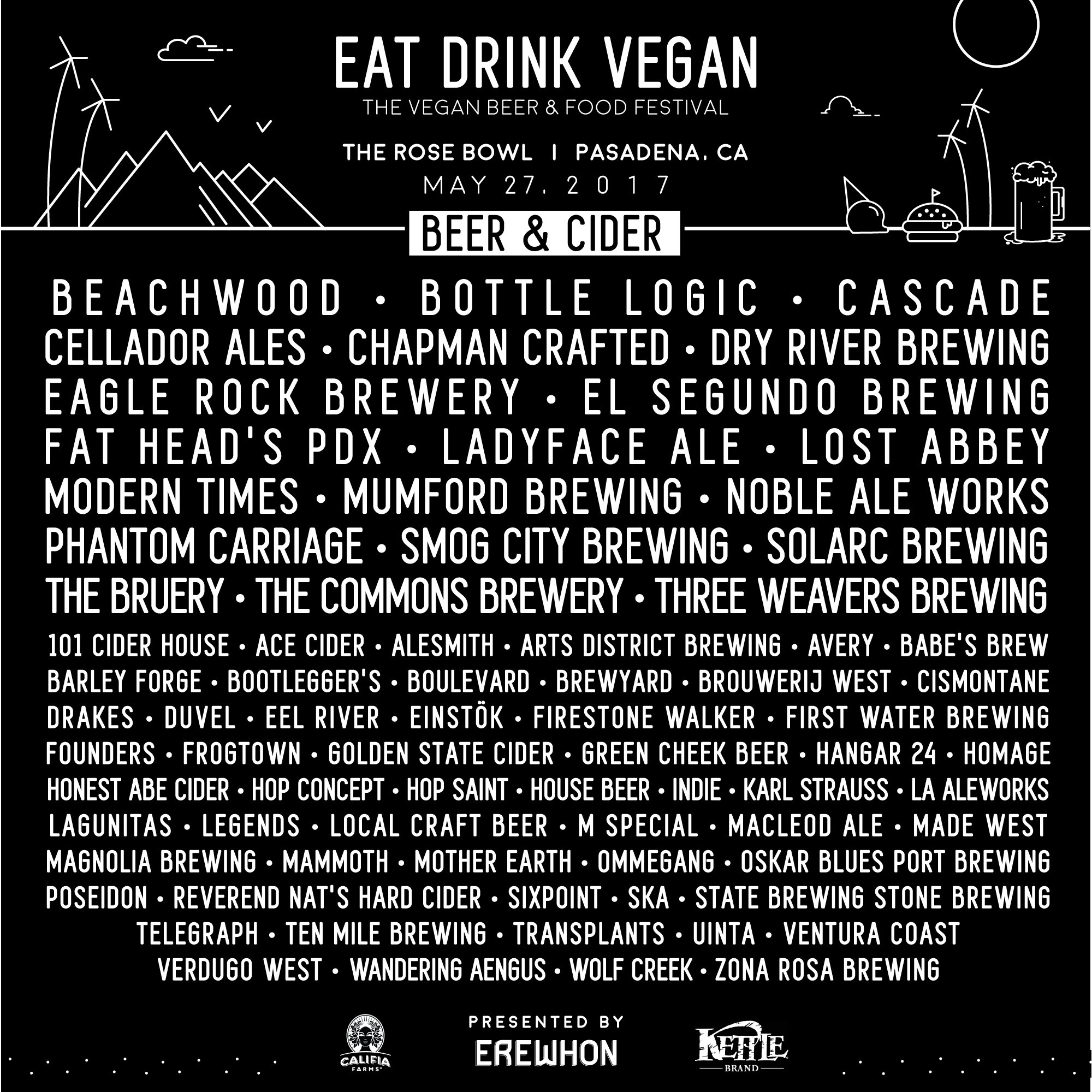 Sizzle Pie
Chickpea & Olive
The Healthy Junk
Butchers Daughter
Amazebowls
Taqueria la Venganza
Broken Spanish
Badmaash
Donna Jean
Sweetfin Poke
Scoops Westside
Peaceful Provisions
Block Party x Cena Vegan
Cafe Gratitude
Trejo's Tacos
Hanjip
Sumo Dog
Donut Friend
Beer Belly
Mandoline Grill
Charlie's Brownies
Beefsteak
Groundwork
Berben and Wolff
Word of Mouth
Yeastie Boys Bagels
Yoga-Urt
Kogi BBQ
Sage
Abbot's Butcher • AvocaToast • Baby Love Sweetery • Beetchup • Bling Bling Dumpling
Border Grill Truck • Casa • Clara Cakes • Clean South • Clover Juice •Colima Coconuts
Diablo Pops • Divine Dips • Donut Farm • El Machete • Evolve Bakery • Fatsquatch
Follow Your Heart • Grilled Cheese Truck • IEATGRASS • India Jones• Indie Jams • Infinity Sauce
Jaycelab• Kelly's Croutons • Kettle Chips • Kind Kreme • Leaf Cuisine • Les Beaux Chocolats
LIVEAT Chocolate • Love You Latte • Lundberg Family Farms • Mama's International Tamales
Mod Foods Co. • NadaMoo • Pizzanista! • Pies By Domonic • Plant Food For People •
Power Plant Jerky • Proper's Pickle • Pudding Truck • Ridiculous Baking Co • Riot Grill
Rowe of Venice • Shojin • Shugah Mama • Smart Pressed Juice • Snackrilege
Southern Fried Vegan • The Sushi Conscious • The Vegetarian Blog
The Walrus and The Hedgehog • Uncle Eddie's Vegan Cookies • Urban Ramen
You Are Loved Foods
+ more To be Announced
Food is not included with passes
FTC - Site employs income earning affiliate
linking