About
Food Forward is an volunteer-powered grassroots group of people who care about reconnecting to our food system and making change around urban hunger.
Mission
Food Forward's mission is to engage volunteers to harvest locally grown food from private homes and public spaces which is then distributed to local food pantries and organizations serving those in need. This work builds community and is a catalyst for raising awareness and creating change around issues of urban hunger and sustainability, food justice as well as combating food waste.
Company Overview
Food Forward is a volunteer powered grassroots group of Angelenos who care about reconnecting to our food system and making change around urban hunger.
7412 Fulton Ave #3
North Hollywood, CA 91605
Phone 1 818.530.4125
Email info@foodforward.org
Website https://www.foodforward.org
Spring Melt: Food Forward Fundraiser
Saturday, April 14, 2012 at 7:00 PM (PT)
Los Angeles, CA
Please join us for Food Forward 2nd Annual Spring Melt Fundraiser
at Elysian in Silver Lake
Saturday April 14th 7-11pm!
With the purchase of your ticket you can expect an AMAZING assortment of zesty entertainment, a full menu of gourmet grilled cheeses and delicious eats from Clementine + an open bar with beer from New Belgium Brewery, our famous Grapefruit Forward cocktail and wine pours from Jordan Winery.
The night is sure to be fun-filled, with comedianne extrordinaire Beth Lapides as our evening's Mistress of Ceremonies. A bushel of entertainment will include everything from interactive visual environments, a DJ & dancing, to being able to roll up your sleeves alongside Miss Rhea Purpose at her ridiculous DIY Kraft Korner, plus other zesty surprises!
There will be a shared abundance of door prizes throughout the night, and a not-so-silent auction as only Food Forward can do it – featuring a bounty of outstanding items for all checkbook sizes: temptations for foodies, book worms, wine snobs, movie buffs, health nuts, passionate pup owners and so much more.
Dont worry, we have parking covered too with free valet service all night.
Come support the work of Food Forward to harvest food, fight hunger & build community and have a juicy fun time while you're at it!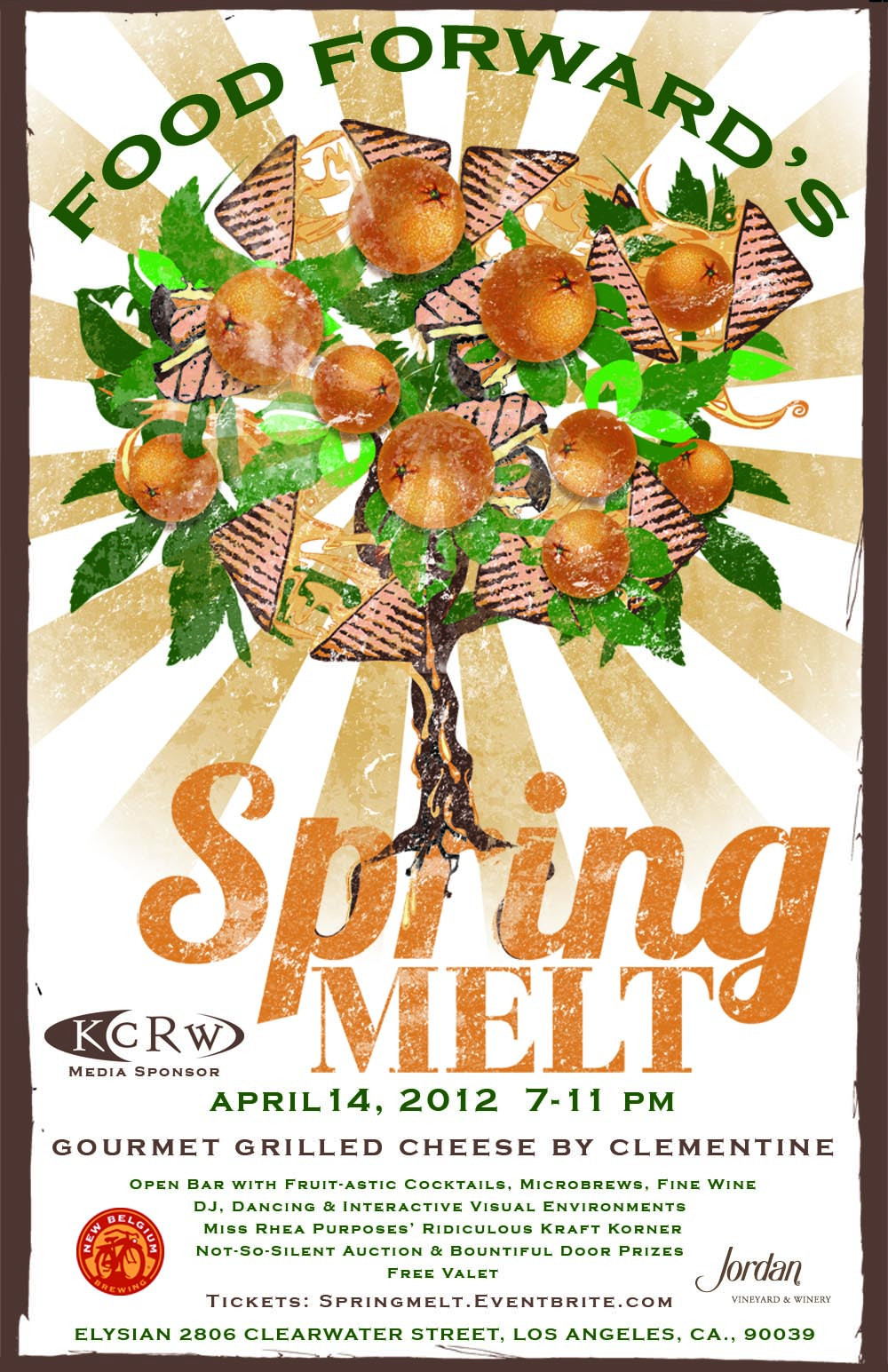 Tickets are limited and can be purchased at: https://springmelt.eventbrite.com
FTC - Site employs income earning affiliate
linking