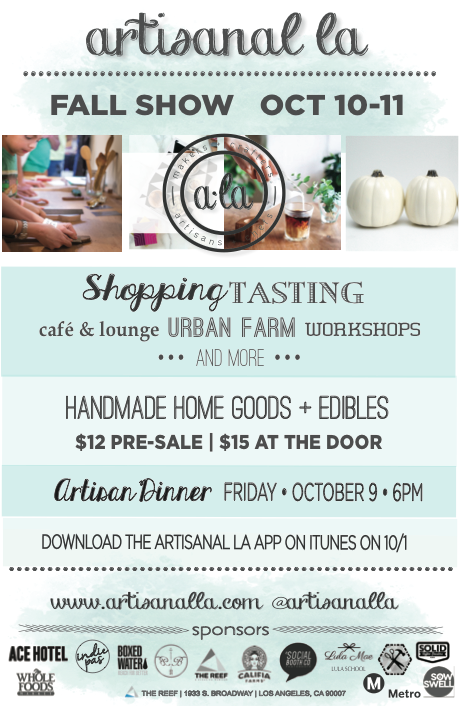 A complete schedule can be found on the website under Programming leading up to the event.
Attendees can download the
Artisanal
LA
app which will be available at the iTunes store on October 1st.
Some Fall Show highlights include:
* 150+ artisan makers to shop with more than 50 making their debut at the event
* Dozens of workshops, expert led panels, speakers, author book signings and demos
* Come Hungry! Expanded food offerings in the Patio Truck Stop with food trucks and tents and more Café selections
* Free hands-on workshops, crafts and activities
* Pop-Up Urban Farm & Garden Classroom featuring Sow Swell, Heartbeet Gardening and Sanctuary at Soledad
* Coffee Lounge hosted by Solid Coffee Roasters
* Beautiful seasonal floral displays from Birch and Bone
* Local artist installations and hands-on screen printing
* Local Art Gallery hosted by downtown's Ren Gallery
* Modern Milk & Cookies Corner featuring Califia Farms
* Coffee  + Toast Pairings with Lavender & Honey and M. Greenwood Jams
* Hosted beverages from Boxed Water is Better and Social Booth Co photo booth
* Surprise giveaways
* Family friendly Kids Craft Zone and Family Lounge for nursing moms
* NEW: Artisan Dinner on Friday, October 9th from 6-9:00pm (more details coming soon)
Instagram /artisanalLAFacebook /artisanalLA
Pinterest /artisanalLA
Fall Show Sponsors
Whole Foods, Sow Swell, Indie Pas, Los Angeles Metro, The Social Booth Co., Birch and Bone, Califia Farms, Ace Hotel, Boxed Water, Ren Gallery, Lula Mae's Lula School, Solid Coffee Roasters, and Maker's Kit.
Use promo code ALAPAS15 to save $3
CHECK OUT VIDEOS OF OUR PAST SHOWS…
2014's Fall Show here.
2013's Fall Show here.
2013's Spring Show here.
THE FINE PRINT + FAQs
*This is an all ages, family friendly event. Children 12 and under free with a paying adult.
*Sorry, Fido. This is a food event no dogs are allowed.
*The event is indoors and outdoors and comfortable rain or shine.
*Come hungry! We have many prepared food options for all tastes.
*Tickets are transferrable between attendees but NOT refundable.
*Non pre-sale tickets are $15 at the door.
*We accept cash at the door and have ATMs onsite. Exact change is appreciated!
*More details including directions and parking, a guide to our makers, a complete programming schedule and more can be found on our website and through our app available on iTunes beginning 10/1
FTC - Site employs income earning affiliate
linking