Pasadena GreekFest – Santa Anita Park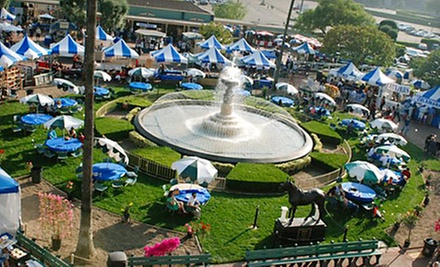 $25 for Weekend Greek-Festival Entry with Four Raffle Tickets and $20 in Food Vouchers for a Family of Four (Up to a $100 Value)
$25 for a family weekend-pass package (up to a $100 value)
Four weekend passes (up to a $60 value)
Four tickets to "The GreekFest Drawing" (a $20 value)
$20 in food vouchers
Get your discount tickets now.
On September 20–22, Santa Anita Park becomes a hub for traditional Greek food, dancing, music, and wares
The 55th Annual Pasadena Greek Fest sponsored by St. Anthony Greek Orthodox Church. 5 p.m. to 1 a.m. Sept. 21: noon to 1 a.m.; Sept. 22: noon to 10 p.m. Santa Anita Park, Arcadia. $5; children under 12 are free. Parking: $4. 626-600-1672 or pasadenagreekfest.org.
FTC - Site employs income earning affiliate
linking