Any Culinary Workshop for One, Two, or Four at Le Cordon Bleu – Bleu Ribbon Kitchen (Up to 58% Off)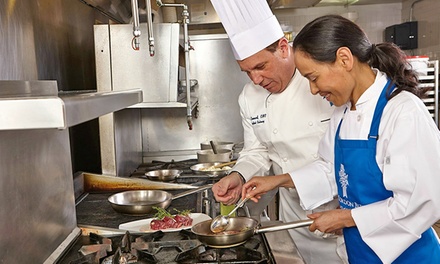 Choose from Three Options
$79 for any culinary workshop for one (up to $125 value)
$109 for any culinary workshop for two (up to $250 value)
$209 for any culinary workshop for four (up to $500 value)
Click to view a listing of upcoming workshops.
Pasadena, CA
Le Cordon Bleu College of Culinary Arts
530 East Colorado Blvd
Pasadena, CA 91101
             Le Cordon Bleu – Bleu Ribbon Kitchen
When it was founded in 1895, Le Cordon Bleu consisted of a single culinary arts school in Paris. Today, the institution has grown to encompass 30 academies spread across five continents, including 16 in the United States alone. Instructors continue to train future generations of aspiring culinary professionals, building upon a foundation of classic European techniques by teaching students to understand and appreciate global cuisines.
Bleu Ribbon Kitchen continues this mission by opening the academies' doors to casual cooking enthusiasts. Le Cordon Bleu's professional instructors lead in-depth, immersive workshops that utilize the same professional-grade tools as the schools' culinary students. Sessions often introduce basic concepts such as knife skills or pastry technique, although workshops also explore international cuisines and culinary traditions. Above all else, Bleu Ribbon Kitchen broadens students' horizons by immersing them in the world of a culinary professional, even if only for one afternoon.
FTC - Site employs income earning affiliate
linking