Monthly Archives: April 2015
Check out the  2015 Spring Program:
DOWNLOAD THE GUIDE ON OUR WEBSITE AND PLAN AHEAD
SPRING SHOWTIME!
The

Artisanal

LA Spring Show is just a few days away! Come shop, taste, learn and mingle with all of the amazing vendors and expert presenters, shop for Mom and get your local on.

Show hours are 11am to 6pm on both Saturday and Sunday which gives you plenty of time to get your buns down to The Reef in DTLA and check it out!  #ALAspring #SHOWmuchfun 
WANT TOTE? BUY PRE-SALE TICKETS ONLINE NOW!
Only the first 1,000 pre-sale ticket holders to arrive will score this season's collectible tote bag by Self Help Graphics & Art and save. Alternately, bring cash and buy tickets at the door.
Buy your Discounted Pre-Sale Tickets Online HERE
Download the Spring Show Map + Guide HERE
Find everything you need to know about Getting There + Parking  HERE
Show some local love to the amazing Sponsors who help bring the show to life HERE
SPRING PROGRAMMING
With three stages to choose from—Main Stage, Demo Stage and Garden Classroom—this Spring Show programming line-up may just be our best yet. From making chèvre and sourdough, to upcycling furniture, learning hand lettering, and painting some awesome leather keychains and coasters, get ready to stuff your brain with new knowledge. (The fun kind!)
Check out demos and workshops like Balm Making 101 with King's Road Apothecary, learn How to Brew Coffee Better Than a Snob with Copa Vida, Arrange Flowers Like a Bad Ass Florist with the incredible Birch and Bone, or listen to Artisanal LA Founder and Curator Shawna Dawson chat about growing a brand and a community.
And don't miss the Garden Classroom where you can learn all about jumpstarting your own urban farmlette, with as much as a big front lawn or as a little as a balcony, while you learn about keeping chickens, and buy some tomato plants too!
Take a peek at the Complete Weekend Programming Schedule  HERE
MEET THE SPRING MAKERS
Over 150 local makers, crafters, artisans, and edibles with more than 60 making their debut this weekend. Meet the trendsetters, experience new community influencers, check out our Patio Truck Stop for some delicious bites and vintage shopping, and of course dozens and dozens of handmade edibles, home and garden goods.
Check out our Spring Show Makers and more HERE 
To peruse more of our creative vendors, fun DIY projects, cool happs around town, event news, featured products and recipes and more… follow us on Instagram @artisanalLA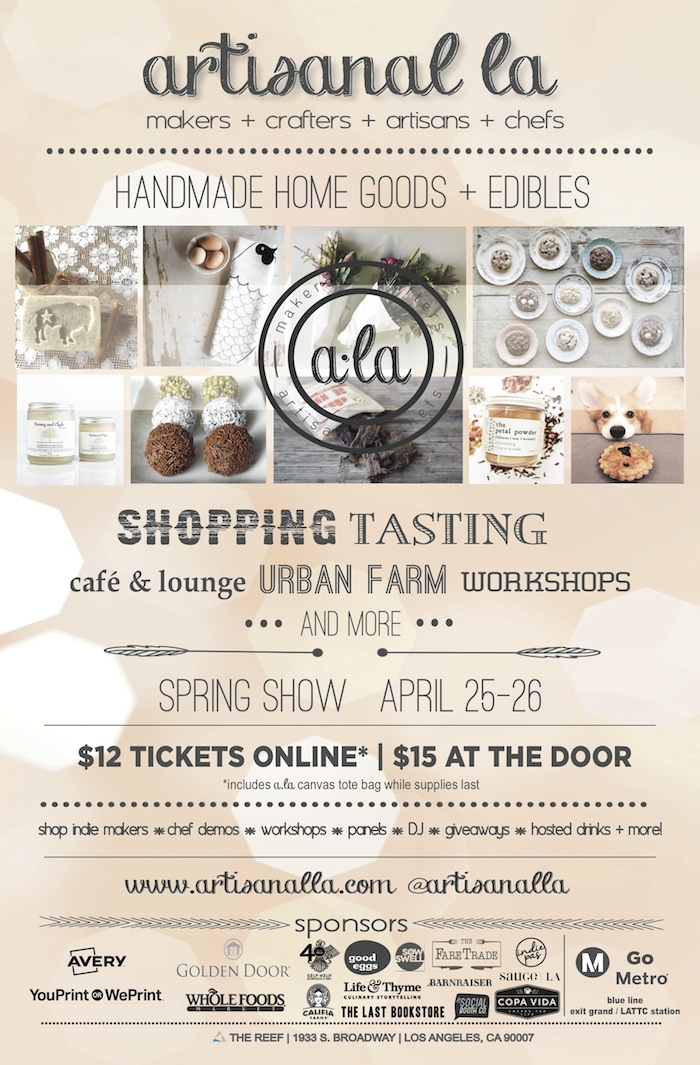 LEARN MORE…
CHECK OUT VIDEOS OF OUR PAST SHOWS…
THE FINE PRINT
* Children age 12 and under free with a paying adult
* Tickets are trasferrable between attendees but not refundable
* More details including directions, parking and Metro Gold Line info can be found on our website
* Non pre-sale tickets are $15 at the door
* We accept cash at the door and have ATMs on site. Exact change appreciated!
* We love our pets as much as you, but unfortunately being an indoor event with food, Department of Health regulations say no dogs except for certified and marked service animals. Fido can't come, but you can find a great leash and even pup friendly baked goods at the event!
*Collectible tote bags are for the first thousand attendees with a presale ticket. Please note, if you are not one of the first thousand attendees, you may not receive a tote bag. They are limited in quantity and offered on a first come, first served basis.