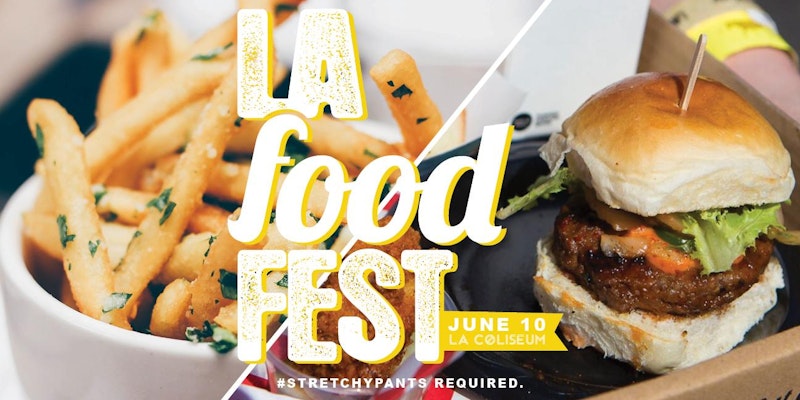 WELCOME BACK TO THE FIRST, THE ORIGINAL – LA FOOD FEST!
PAY ONCE – EAT & DRINK TO YOUR HEART'S CONTENT!
ONE TICKET PRICE INCLUDES EVERYTHING! YES. EVERYTHING!
We're bringing LA's favorite tasting event back to the Los Angeles Memorial Coliseum with more world class, award winning top chefs and restaurants, out of town headliners, your favorite street eats, and more, all in one place for big summer fun.
All of our vendors are hand picked to bring you the best of the best and help you discover new favorites. Sample signature bites from a curated selection of 100+ (yes, one hundred!) food vendors from hot restaurants and celebrity chefs to old school carts and stands plus craft beer gardens, craft cocktail bars, tequila tasting, the iced coffee lounge and everyone's favorite – our ice cream social.
---
PAY ONCE — ONE ALL INCLUSIVE TICKET INCLUDES EVERYTHING!
$65 GENERAL ADMISSION TICKET
* Signature Sampling from a curated selection of 100+ of Los Angeles, So Cal, Baja and Mexico City's best award winning chefs, restaurants, trucks, street carts and stands
* Cervezeria Nueva Gastro Pub ft Mexico's Top Chefs + Craft Micro Brews + Tequila Tasting with Paul Bentley, Olivier Debois, Diego Hernández, Benito Molina, Paco Ruano, Pablo Salas and Mateo Salas
* Grab a cold one at FIVE craft beer gardens featuring Cabotella, The LA Brewer's Guild TEN indie brewers and more
* Keep going with caffeinated treats from our Iced Coffee Lounge ft a DOZEN top roasters and Califia Farms
* Chill with signature cocktails at one of our SIX BARS ft top LA mixologists
* Find your inner foodie child at our Ice Cream Social featuring the city's best frozen and sweet treats
* Kick off your shoes, grab a picnic blanket and stretch out on the famed Coliseum field
* Strike a pose at the photo booth, get a shot with your favorite chef or print your own Instagram pics
* Rub elbows with some of the city's top food writers and critics and cast a vote for your favorite bite with the People's Choice Award
* Enjoy entertainment and tunes from our DJs
* Support your community, local economy and small biz owners
* All included in one ticket price!!!
---
$95 VIP HOUR+ EARLY ENTRY TICKET
* All of the above plus…
* Separate entrance
* Access to the VIP Lounge
* Hour Plus early admission
Only 1000 early admission VIP HOUR+ tickets available!