UPDATED: Suspect in LAX shooting named: Paul Anthony Ciancia, 23 year old from Los Angeles, details are developing.
This is an image being released of the suspect: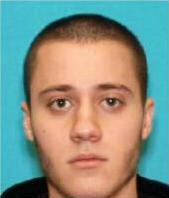 LAX shooter was from Southern New Jersey and may have been suicidal based on a text he sent his brother

How he made it past security, and shot his way around Terminal 3 of LAX is going to be the topic, and his apparent Anti-Government views will not help.
Thousands of people missed flights and are missing flights as this one person enters the airport and kills at least one person, as we understand another victim is in critical condition.
LAX Airport Closed After Gunman Opens Fire at Terminal 3 Checkpoint
1 suspect and at least 7 people injured. One TSA Offer was killed in this incident.
One of the victims is in critical condition.
Everyone is scrambling to get out of the airport, as airport is closed.
Flights have been significantly delayed.
People left luggage when authorities directed people to leave.
People in Terminal have been waiting for hours. They are running out of food and water.
Developing story, several hundred people are in terminal 1. Are people being asked to stay put.
At over 4 hours, there is now medical aid required of some people waiting.
Airplanes are apparently arriving.
FBI is now on scene and processing the scene.